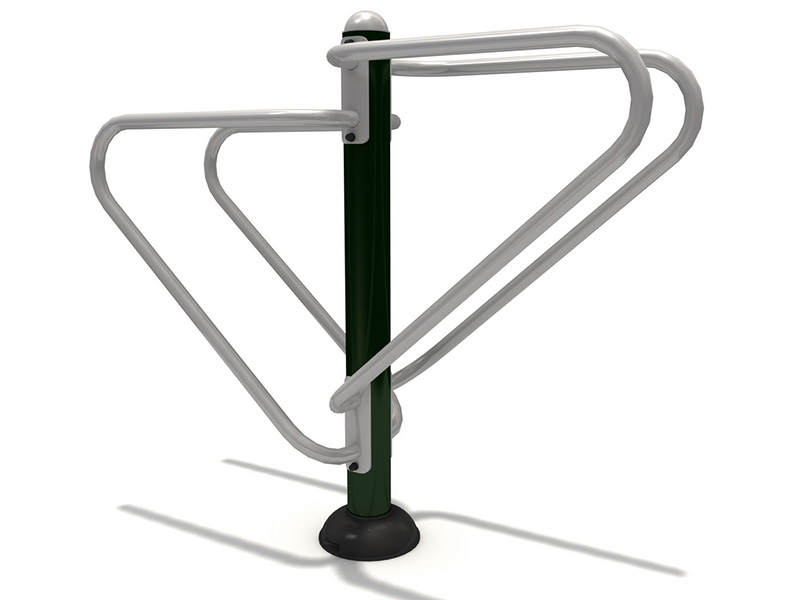 The Push Up & Dip Station
Categories: Outdoor Fitness Equipment
Play Events
Whether you're a calisthentics expert or simply wanting a challenge, these outdoor Parallel Rails offer a multitude of different arm and core workouts.
Desription
  Place of Origin:

  Zhejiang, China (Mainland)

  Brand Name:

  

  Dream&garden

  Model Number:

  

  The Push Up & Dip Station

  Measurements

  1668*638*1553mm

  Material:

  Galvanized steel tubes, project plastic

  Age Range:

  Adults

  Apply to:

  Amusement park, kindergarten, pre-school, residential

  Packing:

  

  Cotton inside and pp film outside

  OEM:

  

  Acceptable

  

  ODM:

  

  Acceptable

  Design

  Free

  Color

  

  Customized
  Description of The Push Up & Dip Station




  Type

  Push-up and Dip station

  Dimension

  1668*638*1553mm (L*W*H)

  Material

  Galvanized steel tubes (processed with carbon-dioxide arc welding, static spraying paint, high temperature solidity), project plastic.

  Color

  Green, Yellow, Red, Purple, Brown, Blue or Customized

  Exercise Part

  Arms, shoulders and back

  Function

  Enhance the muscle strength of upper limbs, shoulders, chest and the back.

  Instruction

  With both hands grip tightly on the horizontal bar, lift the body up and down.

  Player Age

  Middle age and old adults

  Install Method

  1. Underground, if your place is ground or grass
2. Concrete, if you place is covered with concrete and the thickness is more than 10cm.

  Apply to

  Communities, residential park, uptown park, leisure place,

  activity center, garden, playground.

  Packing

  Cotton inside and pp film outside.

  Volume

  1.0CBM

  Certificate

  ISO14001, ISO18000, ISO9001 certificate

  Use Period

  3 years for plastic parts, 3 years for metal parts and components

  Remark

  1. Please check the screws and other catchers regularly to assure the firm structure.

  2. Please make sure that all the kids play with adult supervision.

  3. Blunt objects and acid corrosive liquor are forbidden.
Adults' Outdoor Gym Equipment
Outdoor fitness equipment is perfect for adults looking for an alternative to the traditional indoor gym.
Dream garden Gym's full size outdoor fitness equipment for adults is suitable for users over 140cm / 4' 7". That means whether you're looking to install a fitness station for students, exercise enthusiasts, busy parents, dog-walkers or senior citizens… you're in the right place!
You may have noticed outdoor gyms in parks popping up across the world. This is thanks to a greater appreciation for the health & wellbeing benefits of exercising outside.
At Dream garden Gym we want to bring this experience to people from all walks of life. Therefore our competitively priced range of outdoor gym equipment for adults covers all sorts of exercise activities to suit various locations and fitness levels. From warm up equipment to the challenge of an outdoor chest press machine.
In addition to the excellent health benefits of visiting an outdoor fitness station, our equipment offers social opportunities for adults. You might install our 'double' outdoor gym equipment units at a place of work, local park, or holiday resort. Should you do so, you'll soon notice quite how sociable and supportive outdoor exercise can be.
At the end of the day, working out should not be a chore. For many adults, going to the gym can be expensive, inaccessible or just daunting, however outdoor exercise equipment is different. Sunshine Gym's outdoor fitness solution has no in-built resistance, meaning adults have full control over their use of the equipment. This keeps enjoyment high and competition at a more healthy level!
Each piece of outdoor gym equipment offers different workout options so adults can choose between cardio and various strength exercises. You can find out what muscles outdoor gym equipment works by viewing individual products.
Browse the full range below or explore our sector-specific gym packages. Alternatively, contact a Dream garden Gym expert for free advice on how to buy and choose adults' outdoor gym equipment.