indoor trampoline park manufacturer
Categories:Trampoline park
Play Events
Are you looking for a professional trampoline park manufacturer? Dream Garden is a renowned trampoline park manufacturer, both domestically and internationally.
Desription
Why Choose Dream Garden Playground as Trampoline Park Manufacturer?
Are you looking for a professional trampoline park manufacturer? Dream Garden is a renowned trampoline park manufacturer, both domestically and internationally. Dream Garden is looking to offer your indoor family amusement center the indoor play products and services you need.We provide our customers with comprehensive solutions for the indoor play industry from planning, design, research and development, production, construction, operation to after sales service.
As themost reliable trampoline park manufacturer in China, Dream Garden sells indoorplayground equipment, play structures, swingsets, replacement parts, shade and shelters, site amenities, playground surfacing, and much more. We ship our trampoline park products nationwide in China and internationally. Our customers include schools, daycares, parks & rec departments, homeowner associations, and faith-based organizations. Trampoline park is Olympic Program. This exciting game build up kids body and offer lot of fun during play! Dream garden playground offer large size Trampoline and toddler trampoline! Large size trampoline are totally different with toddler trampoline, Large size trampoline use same pipe as indoor play frame, It is very strong and not get rust!
Dream Garden,a world-wide trampoline park manufacturer for over 10 years, has created a line of exciting, multi-colored Play systems that provide:
Secure, protective play environment

Challenging and fun exploration for kids 2 to 12

An experience in imagination and technology

Innovative designs that meet strictest industry standards

Quality manufacturing offered at a great value
Dream Garden is a leader in designing and selling top-quality trampoline park equipment. All our trampoline parks come with dedicated customer service and helpful advice, making the planning process both efficient and fun. As the most reliable trampoline park manufacturer in China, Dream Garden specializes in trampoline park equipment andotherenvironmentally friendlychildren indoor playground of all ages and abilities. And we know what works and how to design a trampoline park for optimum operational efficiency and profits. We specialize in the designing, manufacturing and installing of trampoline park with turnkey solution service. All trampoline parks in Dream Garden are complied with ASTM, EN and AS safety standards. We pride ourselves in providing only the best customer service and support to our customers. Our indoor trampoline park equipment offers a lot of fun and challenges for visitors. We are the only Chinese trampoline park manufacturer to produce all our trampoline facilities ourselves. That ensures that we can guarantee the quality. Do you want to know more about trampoline parks? Please feel free to contact us today!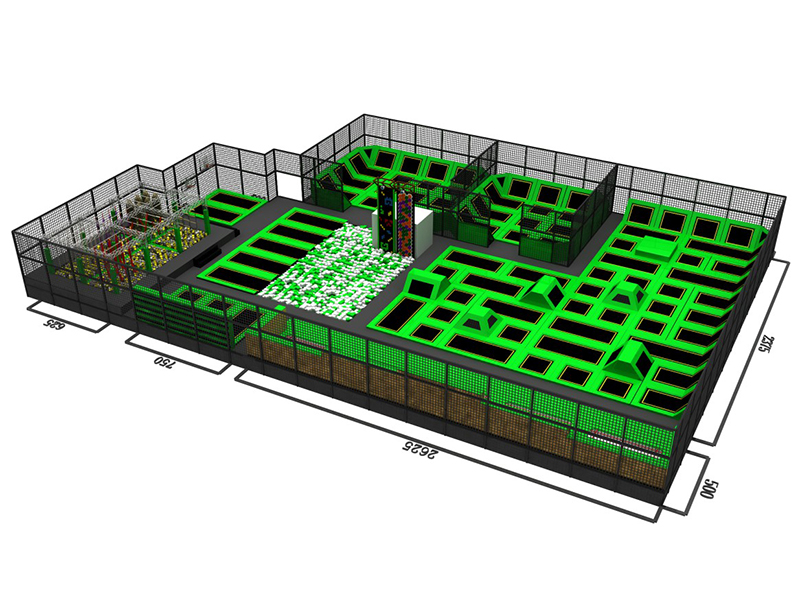 You can know all details relevant on trampoline park from our website browse or few email intercourse, You can fully understand the process of our cooperation term and support from our side. Buy from a real manufacture not just get better price, but also the quality get in control, Manufacture understand better on material, specification,
Manufactures of indoor trampoline park, trampoline world, extreme trampoline from China for sale, trampoline gym with dodgeball, big air from Dream garden trampoline park factory.
Code

indoor trampoline park

Size

2800x1950x420

Jumping Mat

Bearing 170kg/m2, PP material professional jumping mats

Foam Pad

8cm, EPE, waterproof closed-cell foam

Pad

0.45mm thick PVC, anti-water and anti-mildew

Tubes

Galvanized Steel Pipe, Powder Coated

Size: 60*80mm,80x80mm

Thickness: 3.0mm, can be customized

Springs

65mn steel Wire, 21cm not extended length, super high- strength Chrome plated, good elastic performance.

Packing

Standard Export Packing: Cotton & PP Film, Accept Customized Packing.

Installation

Professional and CAD instruction, Manual book

Certificates

CE,GS,TUV,ISO certificates

Warranty

5 years on metal frame, 1 year on trampoline mat and

soft pad.2 year on springs and 5% plus free on shipment.