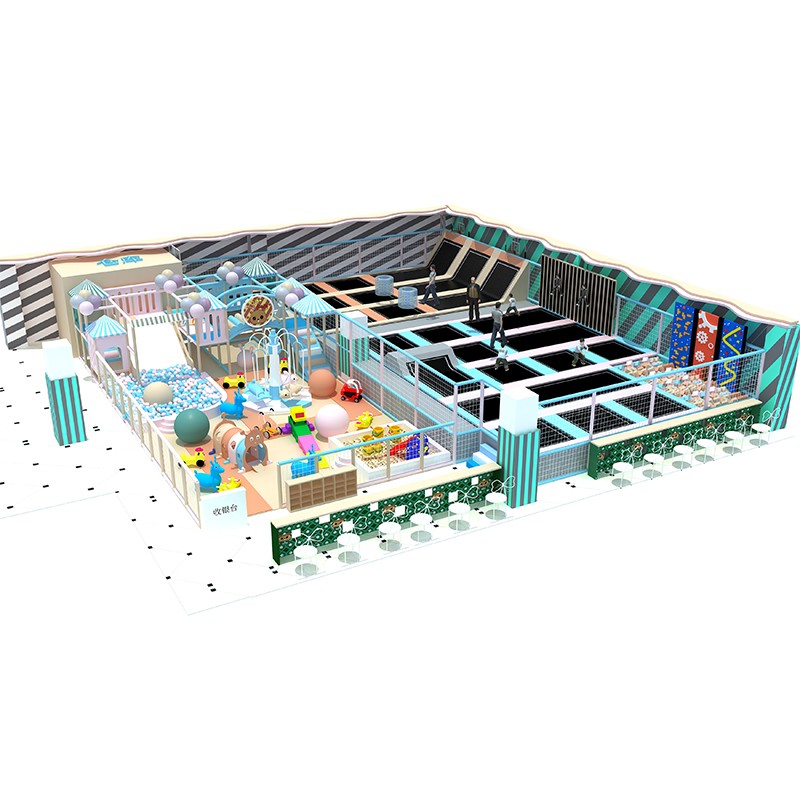 children indoor play area supplies
Categories:Indoor playground
Play Events
Style:Ocean Exploration Game components:rampoline Park, Ninja Warrior Course, Air Coaster, Climbing Wall, Zip Line, Balance Beam, Vertical Drop Slide Capacity:50-65 kids
Desription
There are various plays are available to the children. We can categorize those plays as indoor plays and outdoor plays. But when compares to indoor sports a lot of people were showing interest in outdoor plays. It will be fun for them to play in the outside environment. But now a lot of people were changing their aspects of indoor plays, because of the outside harsh environment and the pollution. The parents were not feeling safe when they allowed their kids to play outside. For their children's safety and to make their kids happy, they are choosing the children indoor play area.
When the kids spend their time at this children indoor play area, they will don't know how the time passes. That's how it is inspiring a lot of kids. This helps to develop concentration, plus it help kid to evade mobile phones. Playing in children indoor play area is better than playing games on mobile phones. Mobile phones will absolutely affect your children's eyes. So we should buy your kids for your peace and their health.
Buy Best Children Indoor Play Area Online:
Looking for top-quality, affordable children indoor play area for sale that kids will love? Dream Garden of Play is the trusted supplier of durable children indoor play area with expertise in providing a variety of fun, safe products for kids. From planning to installation, we excel at helping our customers to buy the very best children indoor play area at prices that public schools and organizations can afford.
Dream Garden is a child play area equipment supplier that designs, manufactures, and installs indoor playground equipment worldwide. An children indoor play area can offer equipment that exceeds even the safety standards of commercial-grade outdoor structures. With padded walls, posts, and flooring, nearly every surface is optimized to absorb collisions and break falls. You can also easily regulate the ages that enter and interact within the walls of your children indoor play area, making it easier to specialize your indoor playground equipment for target age groups and sizes.
We provide "Best of Class" theming solutions and "Free Indoor Playground Design". Great financing options available. Contact us today to learn about our children indoor play area for sale and how you can fill your large indoor space!