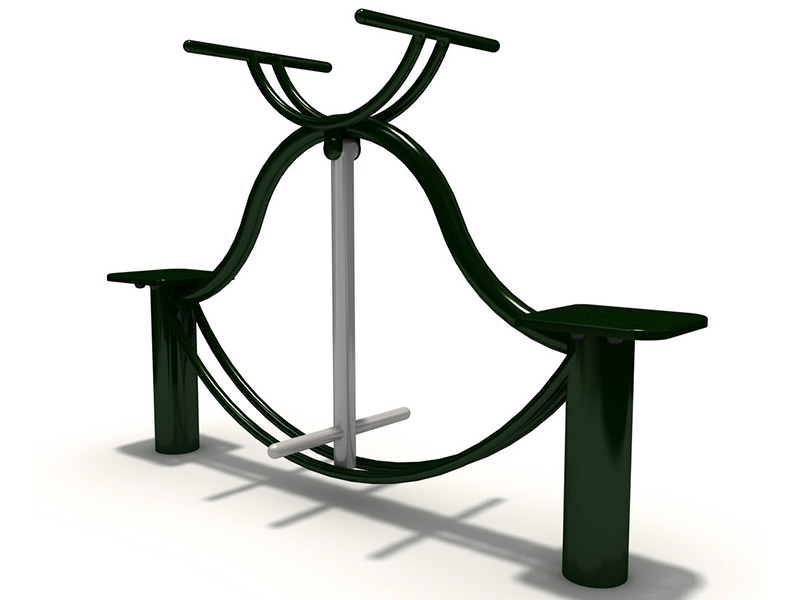 Best Outdoor Fitness Equipment with High quality for sale
Categories:Adult Fitness Packages
Play Events
Desription
  Place of Origin:

  Zhejiang, China (Mainland)

  Brand Name:

  

  Dream&garden

  Model Number:

  

  OUTDOOR FITNESS DG-18-81

  Measurements

  180*70*120 cm

  Brand Name:

  Galvanized steel tubes, project plastic

  Age Range:

  Adults

  Apply to:

  Amusement park, kindergarten, pre-school, residential

  Packing:

  

  Cotton inside and pp film outside

  OEM:

  

  Acceptable

  

  ODM:

  

  Acceptable

  Design

  Free

  Color

  

  Customized
  Name:

  Lower limb rehabilitation device EU standard factory price galvanized tube outdoor fitness equipment for public use

  Model:

  OUTDOOR FITNESS DG-18-81

  Size:

  180*70*120 cm Fitness equipment for public use

  Color :

  Optional Color Fitness equipment for public use

  Heavy Duty Built :

  Heavy duty restrictors and self-lubricating bearings are applied to improve the lifespan and safety. An elliptical trainer is perfect for seniors with tender joints, or for those in rehabilitation with leg, foot or joint problems. It provides a low impact cardio workout as beneficial as walking, running or jogging without causing stress to knees, joints and lower back.

  Age group:

  Above 3 years old

  Material:

  Post Part:

  Material: Steel or Galvanized Steel

  Type: There are 114mm,89mm,76mm,60mm,48mm,38mm,32mm,25mm for choosen!

  Size:114mm (diameter) and 2.75mm (thickness)

  Colour: White,Grass Green,Red,Yellow,Grey,Blue,Coffee and violet.

  Surface treatment: Electrostatic non-toxic spraying

  Prevent fade: powder coating materials added ultraviolet light stabilizer, ensure keep long and bright color.

  For the outdoor fitness equipment we produces, we adopt Electrostatic powder spraying processing to ensure the post can also use a long time in the bad environment,and even when the surface coating are destroyed, our products can also maintain higher oxidation resistance, not rust cavitations phenomenon.

  

  Metal(Steel Plate) Part:

  Material: Steel ,Follow international major manufacturers specifications, achieve high resistance and tensile strength of 19.4 kgf/mm2

  Thickness:2.0-2.5mm

  Surface treatment: Electrostatic prevent slippery surface spraying,and with galvanization steel tube as base material, heat treatment and surface with non-toxic electrostatic powder spraying. Galvanized and powder coating, double surface coating, surface coating life .

  Prevent discoloration: powder coating materials added ultraviolet light stabilizer, ensure keep long and bright color.

  

  Plastic Accessories Part:

  Material: Imported from South Korea. make roll-plastic production can fully will color and base material inseparable, let uv, fade, and fragile change, electrostatic elements such as won't run for a long time. And general factory is color powder and polyethylene base material to dry mix way is a great performance mixed respectively. The color three years don't fade in color, ultraviolet light fastness of eight level.

  Surface treatment: Adopt molded surface process, show higher production quality feeling and and anti-scrape sex.

  

  Fasteners:

  Material: Stainless steel material types: the semicircle head hex screws and security model T crew cut inside hexagonal screw. Screw hole center a convex point design, general tools cannot, become loose, can prevent any adjustment function.

  Surface treatment: Mechanical polishing.

  Packing:

  Cotton, pp film, bubble bag, carton

  Installation Method:

  1.Soft ground like sand or grass.

  2.Concrete ground and the thickness is more than 10cm.

  Technical engineer also can be sent if you need.

  Advantages:

  1)Factory price

  2)We have 6 years production experience in the industry

  3)Custom-made design freely by our professional designer

  4) EN1176, TUV, CE, CCC, ISO9001, ISO14000, IAAPA certification,reasonable design,ensure kids' safety

  Production time:

  In general,5-15 working days after your deposit received.

  It depends on the size of your playground.

  Function:

  

  Improves flexibility and loosen muscle groups on abdominals, lower back & hips

  Usage:

  Park,Residential area ,Commercialarea,Kindergarten,Amusement park,Shopping mall,

  Game center, Hotel ,pre-school,etc.

  Instructions:

  

  1. Take hold of support bar with both hands;

  

  2. Place both feet onto the rotation platform

  

  3. Rotate the feet using abdominals from side to side, flexing at the shoulders while keeping your body straight and upright

  

  4. DO NOT rotate violently; maintain a slow and controlled movement during the exercise

  

  5. Increase duration as fitness increase.

  Design:

  

  Every of Aplay design member keep in mind that the play value is not from the events or activities of those structures of equipments; it is on the play itself. The core of our design concept is play value, we continuously maximum this in our design to help kids develop physical coordination, confidence, social skills, as well as a healthy & active lifestyle.

  Safety


  

   Over the years, consistently holds the policy of "Safety First, Prevention Foremost" and thoroughly infiltrates into products design, material selection, manufacturing, as well as our company internal management operation. We ensure all employees by a special safety instruction, and ensure all subcontractors' and visitors' safety from the original design to kids playing.