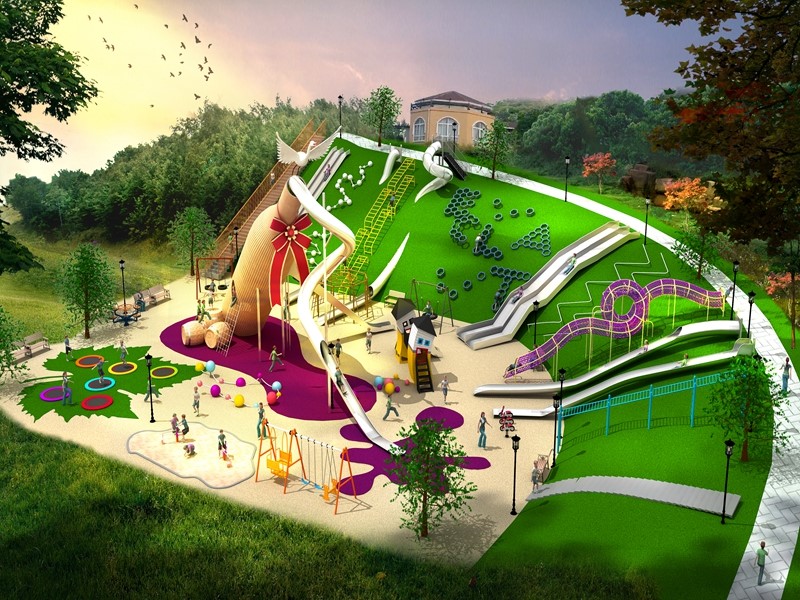 Dream garden children outdoor playground equipment for sales
Categories:Playground equipment
Play Events
If you're looking for the best playground equipment supplier to help you create a fun and safe space for the kids in your community, you can count on PlaygroundEquipment.com for great prices on the best outdoor playground equipment. At toymakerinchina.com, you'll find an impressive selection of commercial playground equipment for sale in one place as well as great service. Our high-quality, affordable commercial playground equipment is safe and durable, and we're proud to carry innovative and unique playground equipment as well as traditional outdoor staples. We are committed to selling only top brands of kids' outdoor play equipment that will bring years of fun for the children of your community, whether you plan to install commercial playground equipment for schools, at a park, or a church.
Desription
Find the Best Children's Playground Equipment and Outdoor Play Structures
We have all of the essential pieces for a great playground for sale here, such as:
Play systems

Spring bouncers

Swing sets

Accessible equipment

Balance toys

Challengers

Climbing structures

Craggy rocks

Crawl tubes

Free spinners

Standing panels

Tree houses

Games

Music toys

Slides

Seesaws
We carry products from the top commercial playground equipment manufacturers, so regardless of what types of outside play equipment you are looking to buy, we're sure to have what you need to construct a fun and high-quality public playground. Our vast collection of playgrounds for sale includes everything from entire play systems to specific parts. Customers' favorite products include traditional pieces such as swing sets, crawl tubes, and slides. We also offer accessibility options for our commercial playground sets so that everyone, regardless of size, age, or physical ability, can play. Themed play park equipment is another fun option that can help set your playground apart from the rest in your area. When browsing our commercial-grade playground equipment online, you can search for particular colors, specific dimensions, and equipment suitable for a variety of age groups. No matter what your needs are, we can help!
How Much Does Commercial Playground Equipment Cost?
An entire playground may cost anywhere from $8,000 to $70,000, while individual components may be as little as $200. Due to manufacturing standards required in the development of most public playgrounds, the costs of park playground equipment can be quite high elsewhere, but at PlaygroundEquipment.com, we work hard to keep our school playground equipment prices as low as possible.
Why Shop for Commercial Play Structures Here?
Stringent Safety Standards
We are one of the top commercial playground companies because our outdoor play structures are designed to protect kids and ensure their safety as they play. We abide by federal and consumer guidelines and go through a strict certification process to ensure safety: All of our commercial playgrounds are IPEMA-tested and meet all ASTM and CPSC standards. Few manufacturers provide such a high level of product quality, but you can rest assured that we sell only the very best industrial playground equipment.
Convenient Service
At PlaygroundEquipment.com, ordering the commercial outdoor play equipment you need is simple. We provide free quotes within only one business day, and we offer fast shipping on in-stock equipment. Installation is easy, too. Our customer service team is always here for you, on the phone or online, and we can answer any questions about the items we sell on our site as well as help you choose the products that are right for you.
When they order with us, public and commercial decision-makers rest easy knowing that they have found not only safe equipment but an affordable solution for their community or organization. We can help you find the best playground equipment at the best price. Choose from our vast selection for your playground set today!
Frequently Asked Questions About Our Commercial Playground Equipment
What Is the Best Playground Equipment?
PlaygroundEquipment.com has the best commercial playground equipment for parks and schools, so when you make a purchase from us, you can be sure you're getting the best commercial playsets and playground accessories that will keep kids safe for hours of play.
What Should a Playground Have?
First and foremost, playground park equipment should have safety features. This includes secured structures with proper installation and safe playground surfacing to cushion falls. Apart from the safety features, most playgrounds typically have at least a swing set, slide, and climbing equipment, but your needs may vary based on the type of playground you're creating.
What Are the Types of Playground?
In general, the different types of playground are themed, inclusive play, freestanding, and natural. Themed playgrounds are centered on a particular play style or idea, like a jungle, pirate ship, or castle. Inclusive playgrounds have equipment that's accessible to children of all abilities and can include sensory-friendly and/or wheelchair-accessible fixtures. Of course, it's important to note that a playground of any type can also be inclusive! Freestanding playground styles feature standalone pieces of playground park equipment that aren't attached to a larger system. And natural playgrounds make use of rocks, wooden structures, and the environment around them to create a playground.
What Is the Best Material for a Playground?
The best material for outdoor play sets is a durable metal like steel. This makes for long-lasting frames that are safe and hold up to hard play and the elements. Wooden play sets can rot and attract wasps and hornets, so we recommend metal-based products. Surfacing should be made of rubber, synthetic grass, or mulch.
What Is the Best Thing to Put Under a Playset?
Our favorite surface material to put under kids' outdoor playsets is rubber mulch because it keeps kids safe from falls, looks nice, lasts a long time, and is easy to install. It's not the only good option, thought: We also sell wood fiber, rubber wear mats, rubber tiles, and synthetic turf as well as poured-in-place surfacing.
What Are the Universal Rules for Outdoor Play?
Some universal rules to enforce on all playgrounds are ones that will encourage fair, fun play and safe, appropriate use of commercial outdoor playground equipment. Rules like no pushing and shoving, no climbing up slides, no jumping from swings, and other guidelines that make sure the equipment is used properly will keep everyone safe and happy for a great playground experience.
How Do You Install Playground Equipment?
To install kids' outdoor playground equipment, you'll need time, tools, and a crew of knowledgeable volunteer installers. If you're certain you have the tools to get the job done, you'll just need to follow the instructions included with your new equipment. If you aren't 100% confident that you know how to install playground equipment, you may want to opt for either supervised or full-service installation to make sure that the job is done right.
How Often Should Playground Equipment Be Replaced?
Most metal playground sets for sale will last 15 to 20 years before they begin to show wear and tear and need replacement. We favor metal structures over wooden ones because they last longer. You won't need to worry about signs of rust and wear on your kids' outdoor play equipment for many years to come!
What Are the Benefits of a Playground?
Installing an outside playground for sale at PlaygroundEquipment.com has many benefits for child development. Playgrounds improve the physical fitness, coordination, and confidence of children as they develop new physical skills like running, climbing, jumping, and sliding. Playgrounds are also great places to learn teamwork and cooperation while building friendships and social skills and fostering a sense of imagination. The benefits of playgrounds are boundless!