Starry Night Series: An Interstellar Journey in Our State-of-the-Art Indoor Playground
Categories:Indoor playground
Play Events
Keywords:Indoor Playground LED Lighting Starry Night Theme Interactive Projection Games Bounce Trampoline Ball Pit Children's Maze Birthday Party Stage Parents' Rest Area Arcade Games Claw Machine Air Hockey Basketball Machine Electronic Racing Games Safety Focused Immersive Experience Family Entertainment Active Play Learning Through Play Children's Parties
Desription
Introducing our "Starry Night Series" Indoor Playground, an interactive and immersive environment designed to inspire children's creativity and physical activity while ensuring a great time for the whole family.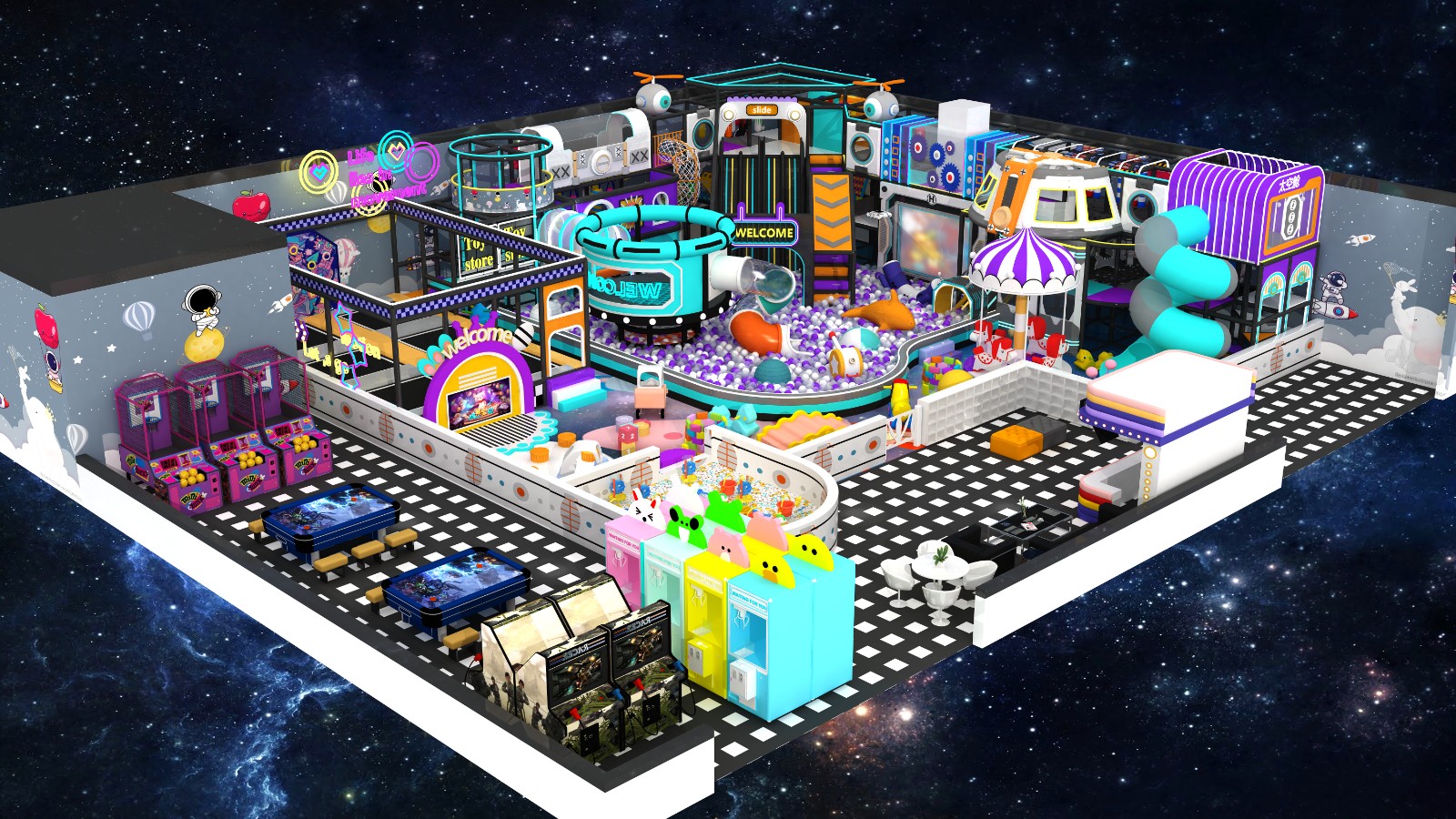 This state-of-the-art indoor playground showcases the breathtaking beauty of the universe with a stellar theme. Enhanced by LED strip lighting, our playground sets itself apart, mirroring the mesmerizing twinkling of stars in the night sky. This exquisite lighting design not only amplifies the play area's visual aesthetics but also elevates the overall experience of space exploration for young astronauts.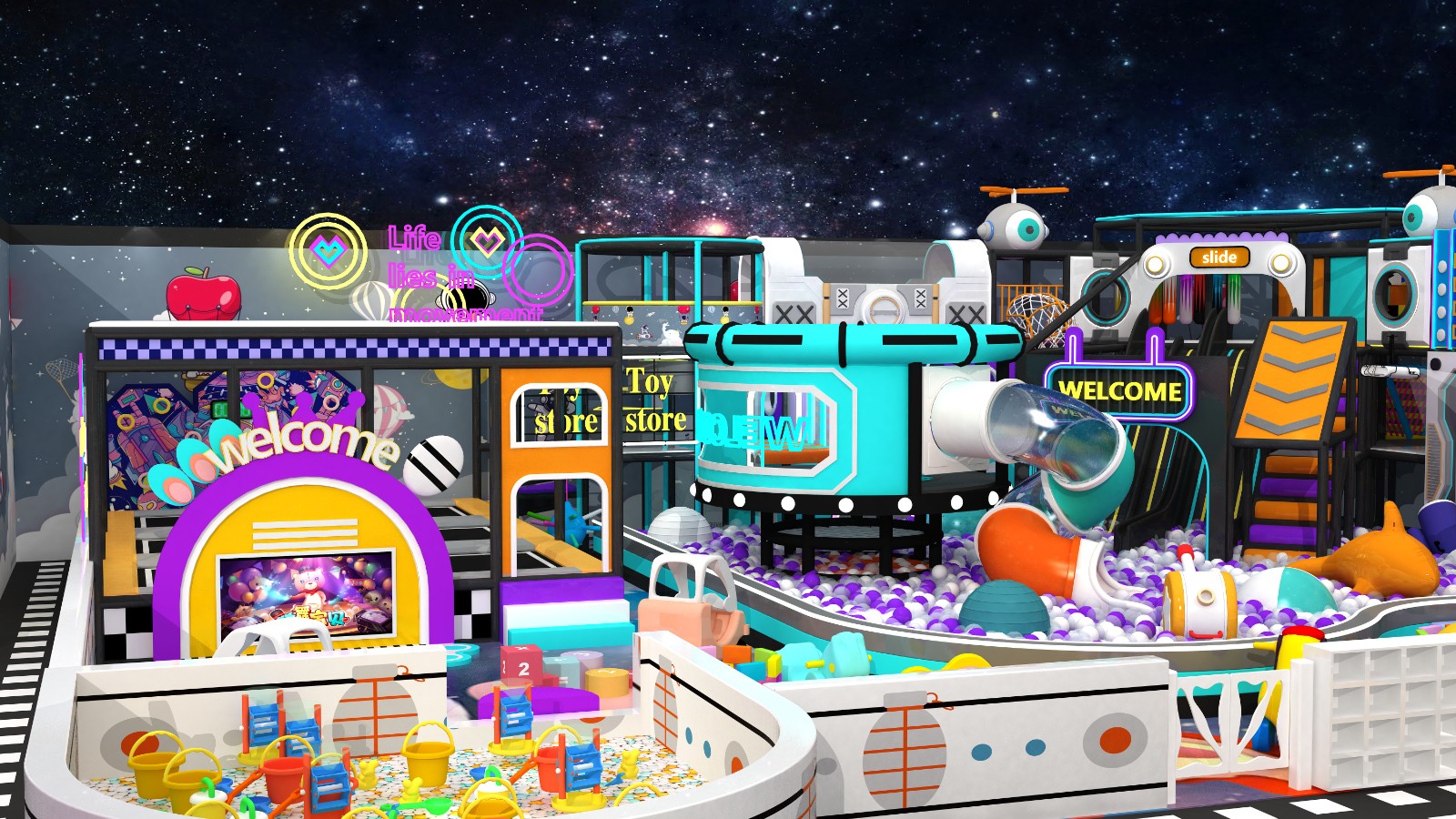 Our playground is packed with a diverse range of playful attractions, including a bounce trampoline for the high-energy jumpers, a ball pit for the toddlers to dive into, and a slide for a swift journey back to earth. In addition, our interactive projection games provide an immersive digital experience, bringing children into a new dimension of play and learning.
Structured within a labyrinthine frame, our playground provides an intricate maze that challenges children to find their way through, stimulating their problem-solving skills and offering loads of fun at the same time.
For the celebration of special occasions, we have a dedicated stage for birthday parties. Here, children can enjoy a memorable day filled with joy, laughter, and plenty of surprises under the enchanting starry lights.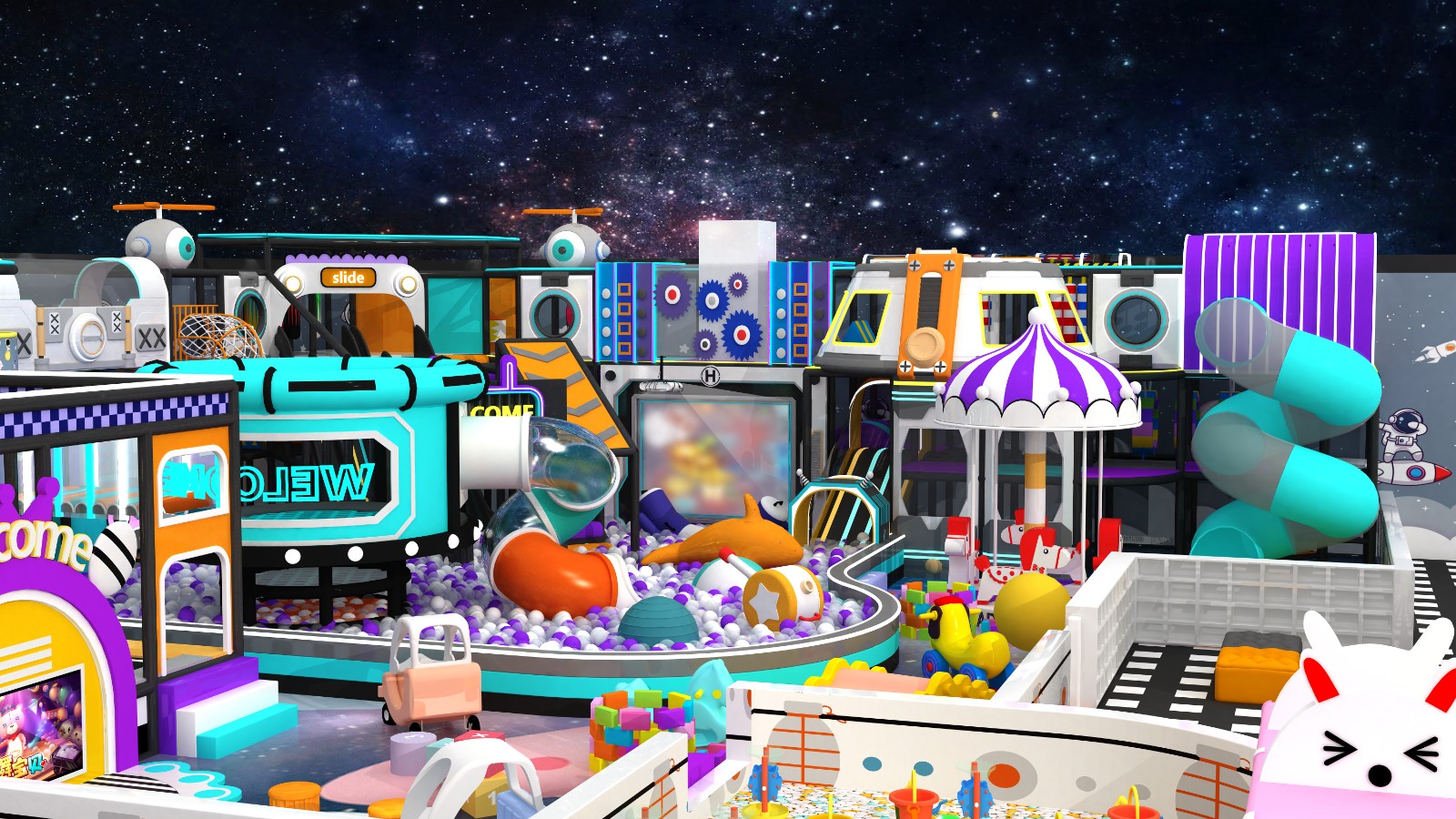 Understanding that parents need their relaxation too, we have catered for a comfortable parents' rest area. Here, parents can take a break, unwind, or work while still keeping an eye on their kids as they play and explore.
Furthermore, located near the entrance are a selection of classic arcade games including a claw machine, air hockey, a basketball machine, and electronic racing games. These engaging games offer endless entertainment for both kids and adults, adding to the memorable experience of our Starry Night Series Indoor Playground.
With a focus on safety, fun, and learning, our Starry Night Series Indoor Playground is a galactic oasis in the heart of your city, ready to take families on a fantastic voyage of cosmic adventure.
1.Themed Design: The playground is based on a Starry Night Series theme, designed to provide an immersive and visually stimulating environment for children.




2.LED Lighting: The playground is uniquely decorated with LED strip lights that emulate the beauty of a starry night sky, enhancing the overall visual appeal.




3.Variety of Attractions: The playground houses a bounce trampoline, a ball pit, a slide, interactive projection games, and a complex maze, catering to a diverse range of preferences and ages.




4.Birthday Party Stage: A dedicated stage for birthday parties is available, where children can celebrate their special day under enchanting starry lights.




5.Parents' Rest Area: A special rest area is provided for parents to relax while keeping an eye on their children.




6.Arcade Games: The entrance features a variety of classic arcade games such as a claw machine, air hockey, basketball machine, and electronic racing games for additional entertainment.




7.Safety Focus: Safety is a top priority, and the playground is designed and operated with the highest safety standards.
For more information regaridng on this design,please contact us at [email protected]