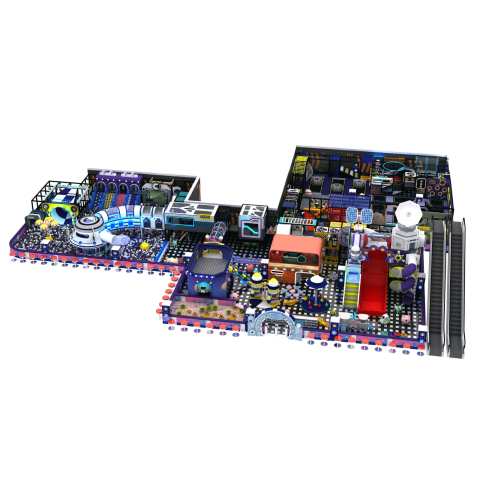 Explore the Edge of Imagination: Introducing Our Interactive Indoor Playground
Categories:Indoor playground
Play Events
Welcome to the future of play! Our state-of-the-art indoor playground is engineered for the curious and active child, packed with innovative play structures and educational games designed to challenge, entertain, and educate. With our playground, every visit is an adventure into a new world of fun!
Desription
Key Features:
Interactive Stations: Touch, move, and manipulate to learn and laugh.

Dynamic Slides: Safe, thrilling slides for all ages, from gentle slopes to exciting drops.

Ball Pits and Climbing Frames: Dive into fun or climb to new heights in our safe and vibrant play areas.

Safety First: Non-toxic materials and rigorous safety standards ensure peace of mind.

Customizable Themes: Transform the playground to fit any space, concept, or dream.
Take a virtual step into our playground with our gallery and see the smiles we've created.
Customer Testimonials:
"Since installing the playground, our visitor numbers have doubled!" - Jane Doe, Family Fun Center
Call-to-Action:
Ready to bring this world of play to your space? [Get in Touch] today for a free consultation and quote!
Contact Information:
Our friendly team is here to answer all your questions. Reach out via email at [[email protected]] or call us at [+86-1386864-3987].
About Us:
With over a decade in playground innovation, our company is committed to creating environments where children can learn through play.
Certifications and Safety:
Our products meet all international safety standards (ISO, ASTM), ensuring the utmost care for your little ones.
FAQ Section:
Got questions? We've got answers! Check out our FAQ for information on installation, maintenance, and more.
Footer:
Connect with us on social media, review our terms of service, and explore our privacy policy. We're here to make your experience seamless.