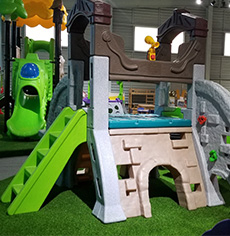 Are you looking for the best quality Trampoline Park or indoor play structures? Dream Garden Amusement Equipment is the best option for you to easily get the finest range of products suitable for you. It is also quite convenient to get the trampoline parks for the shopping mall, schools or even daycare facilities. Dream Garden Amusement Equipment brings you perfectly designed and safer indoor play structures at the lowest price range.
Safe And Affordable Indoor Play Structures:
Custom-designed Playground Equipment is available with extensive high quality at the lowest price range. Main goal of the experts is to provide complete quality equipment at the most affordable price range. The winning team of professional playground consultants will automatically guide you throughout the purchasing process. Whether you are buying new equipment or replacing indoor play structures, then here is your wonderful option. Leading sales representative prefers to help you create the kids' play equipment based on your dream-come-true project, even within the budget range. Being the leading indoor playground supplier, Dream Garden Amusement Equipment assures of providing the safest school and children indoor playground equipment. It will be quite fun and engage children in the most relaxed mode and give them better motivation to the extent.
Age-Appropriate Indoor Play Structures:
Normally, indoor play structures is value priced for affordability even without compromising quality. The expert team provides a complete range of products at highly competitive pricing without any hassle. Playground Experts provides you with the best range of ideal equipment for indoor play. Normally, you would also be quoted with freights and the installation process. Custom-designed commercial playgrounds are available for all the new playground areas. Apart from these, these could also be added to the current indoor play structures at your school or parks. These will be ultimately giving a fresh new feel and look to the extent.