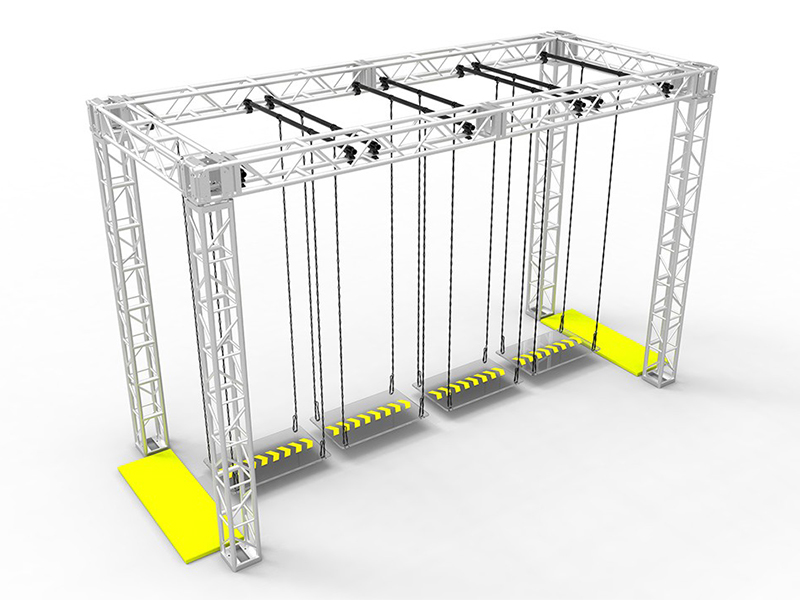 Ninja Warrior Obstacle Course for Kids
Categories:Trampoline park
Play Events
ninja warrior course for kids, Ninja Warrior Obstacle Course for Kids
Desription
Playgrounds offer fun for everyone and they have certainly come a long way from simple slides and swings. Impressive playgrounds are popping up all over the world and feature state of the art designs and creative themes. Some playgrounds even feature zip lines, trampolines, and slides that require helmets! From Tokyo, Japan to San Francisco, California, and beyond, here is our list of the world's best playgrounds that are certainly worth the trip!
Belleville Park -Paris, France
France seems to be one step ahead of the world in terms of innovation and imagination when it comes to playgrounds. Taking it to the next level, the designers of this playground asked both kids and adults alike what they were looking for in a playground. The result is somewhat of an abstract structure that has been built into the landscape.
Depending on how you look at it, the playground can resemble a pirate ship, a flying carpet, or something in-between. The main elements of the playground are the playhouse and the climbing course, which features different inclinations for different levels and ages. The best part of this park may just be the incredible view of the city and the Eiffel Tower that you get from the top of the structure.
Jungle Gym -Nashville, Tennessee
Not only is this playground located inside the incredible Nashville Zoo, but it features over 66,000 square feet of total fun! This impressive wooden playground looks like something right out of Pirates of the Caribbean and features the infamous snake tunnel, a huge net to climb that connects the bridge and tower and a gigantic hippo that you can relax on. The numerous nooks and crannies throughout provide perfect shady hiding spots for a fun game of "hide and seek".
Your kids will love climbing to the top of the 35-foot tall treehouse. When they're ready to come down they can slide down one of the super slides. With its accessible swings, soft padded floors and smack dab location in between the African Savannah and the Jungle Loop, Nashville's Jungle Gym playground is the perfect spot to let the kids run out some of their energy.
Nishi-Rokugo Park -Tokyo, Japan
If you ever travel to Tokyo, Japan you need to check out Nishi-Rokugo Park. It's located between central Tokyo and the city of Kawasaki and is the perfect outing for the whole family. This popular playground combines used tires with playground material to make one of the most bizarre yet innovative playgrounds in the world. There are giant sculptures made out of recycled tires located throughout the park. One of the most interesting sculptures is made to look like Godzilla.
There are more than 3,000 tires throughout the playground creating tunnels, bridges, and of course the famous tire swing. The park can get quite dusty and hot as there is not a lot of shade so we recommend checking out the park either early in the morning or at dusk. Along with the thousands of tires, there are slides, regular swings, and a jungle gym. Adventurous kids will love the steep concrete slope that is used for tire tubing.
Clemyjontri Park -McLean, Virginia
Clemyjontri Park is a large 2-acre park located in Mclean, Virginia. The park opened in 2006 and boasts an all-inclusive playground where kids of all abilities are encouraged to play side-by-side. The park is full of bright colors and the ground is soft and squishy making it comfortable for kids to walk and run around. Additionally, the park also features swings that are specially designed for children in wheelchairs, Braille throughout, as well as maps and mazes.
Furthermore, there are also washrooms on-site as well as vending machines and a water fountain to keep the little ones hydrated. There are many slides, swings, and jungle gym structures to keep the kids running all day long. Covered picnic areas provide shade and we suggest packing a picnic and spending the whole day here. Trust us, you won't run out of things to do!
Adventure Playground -Berkeley, California
Adventure Playground is an urban park located in Berkeley, California at the Berkeley Marina. This playground actually doesn't look like much but this may be why it's so notable. The playground sits on a dusty half-acre and was inspired by the European Adventure Playgrounds that originated after World War II. At Adventure Playground, children are encouraged to play and build things using their creativity. What is even more interesting is that the boats, forts, and towers that make up the playground were all designed and built by children!
Favorite things to do include the zip line and rolling down the hill in a piece of pipe. The playground even offers various tools such as hammers, saws, nails, and paint so that the kids can get creative while playing but an accompanying adult must be present. The park is recommended for children ages seven and up although younger children are allowed as long as they are within an arm's reach of a participating adult. Admission to the park is free for individual families and guests must wear closed-toe, sturdy shoes. Weekends are very busy so we suggest checking out this awesome playground mid-week when the kids can really let loose and get their creative juices flowing.
St. Kilda Adventure Playground -St. Kilda, Australia
St. Kilda Adventure Playground is an amazing playground where kids are encouraged to let loose, explore, and challenge themselves! What you won't find here are the typical American plastic play structures and slides. Instead, this playground has used a collection of recycled materials to build a constructed shipwreck, wooden castle, flying foxes, numerous slides, and trampolines.
The playground has been open since 1982 and continues to get upgrades that make it suitable for all ages. Some of the kid-favorites include the rope ladders, trampolines, go-karts, and tunnels. Another great thing about this park is that guardians are encouraged to sit back, have a coffee, and relax while they're kids are having fun!
Blaxland Riverside Park -Sydney, Australia
Blaxland Riverside Park is known as the largest playground in Sydney, Australia. It's open 365 days of the year and located conveniently beside the water. The playground is spread over seven acres and offers everything from water play to steep climbs to moving elements.
The 170 fountains alone could keep the kids occupied for hours and proves to be the biggest outdoor water play facility in the state. Along with water, kids will find a multi-level treehouse, tunnel slides, climbing wall, and futuristic-looking swings. Even adults are encouraged to join the fun. You'll often see adults racing down the slides and challenging their kids to a climbing race. The park also features many shaded areas so feel free to pack a picnic, explore the gigantic park, and enjoy a full day of fun!
Takino Hillside Park -Hokkaido, Japan
Takino Hillside Park is a Japanese national government park located in Sapporo, Hokkaido. It can best be described as half adventure park and half natural wonderland, and in the winter transforms into a Snowy adventure park. The park is divided into many different sections and each zone contains a different element of play.
Giant concrete slides await visitors and helmets are provided free of charge for all children, in fact, it is mandatory that they wear one. The most gorgeous attraction in the whole park is a colorful rainbow nest dome that you can play in. Other highlights include the bouncy hills made from plastic and foam, the giant playhouses, the ponds, and slow water slides. There is enough climbing, jumping, and exploring to fill an entire day or two here and it promises to be fun for the entire family.
Boadilla del Monte -Madrid, Spain
This playground is not just an incredible place for kids to expand their imagination but it is a stunning piece of architecture as well. Boadilla del Monte was designed by Spanish architects Eduardo Navadijos and Csaba Tarsoly with the goal of "giving children inspiration to pursue their dreams in an airy and cool environment,". This may be one of the most modern playgrounds on this list and is certainly worth a visit.
The playground is an absolute masterpiece in shades of blue and white. Of course, along with these innovative structures are common playground features. There are hills to climb, sand to play in and bikes to ride along with enough shade to keep everyone cool. This is certainly not your typical playground but one of the most incredible to open kid's imaginations and one of the prettiest for parents to look at.
MonstroCity -St. Louis, Missouri
This interactive playground/sculpture opened in 2002 and many argue it is the coolest playground in the whole world! The playground is built of reclaimed materials including two Sabreliner aircraft fuselages that are suspended in the air. Other notable things this playground offers are a fire engine, castle turret, four-foot-wide slinkies, two ball pits filled with large rubber dodge balls, and numerous thrilling slides.
MonstroCity isn't for kids though, adults will love it too. In fact many times here you can actually see more adults than children playing. Climb through the sky-high tunnels and race down the 10 story metal tube slide. The playground is located outside of the City Museum, families can spend an entire day exploring both this playground and the museum which inside houses a shark tunnel, human-sized hamster wheel, and more.
Woodland Discovery Playground -Cordova, Tennessee
This playground is a work of art, as much as it is a place to play and kids all over the world are going wild for it. In fact, Woodland Discovery Playground has earned international awards for its innovative and sustainable design. Some of the favorite activities here include the giant nest that kids can climb, the treehouse, innovative swings, and the large tube slide.
There are six different nests throughout the playground, each featuring a different type of play. They're also surrounded by a huge arching leafy arbor. The separately designed nests make it perfect for any age group and parents can sit at the tops of each section and watch their children play below. The park also features a huge sandbox and on-site washrooms.
Ghost Train -Lima, Peru
One of the most unique playgrounds on this list is located in Lima, Peru. The playground is made out of constructed recyclables and is located underneath the support columns of an abandoned train track. This is one of our favorite playgrounds because the creators of Ghost Train took the time to turn an otherwise forgotten about place into something very special for both kids and adults alike.
The climbers, zip lines, horse-shaped tire swings, and climbing walls all had a lot of thought put into them. One of the greatest aspects of this park is the abundance of swings, and we all know that the swings are always taken up first! Bright colors give this industrial looking park a boost and at any time you can find both kids and adults having a blast here.
Lake Macquarie Variety Playground -Speers Point Park, Australia
Lake Macquarie Variety Playground is known for being one of the best in all of Australia and offers enough things to do to keep the kids entertained all day long. Make sure to pack a picnic as there are many barbecues, tables, and sitting areas available around the playground.
The playground is spread over five acres and offers plenty of activities such as a 40-foot climbing tower complete with metal tube slide, a double flying fox, tons of spinning toys, and a maze. Along with all of this comes lots of water and sand play areas, a sensory garden, and a bike circuit with two intersecting tracks. For those kids who need a little quiet time, there is a specially designed retreat just for that. Little ones will love the mini-amphitheater and performing stage and parents will appreciate the washrooms that are located right across the road.
Diana Princess of Wales Memorial Playground -London, United Kingdom
Tucked into a corner of Kensington Gardens is an awesome playground in memory of the late Princess Diana. At the center of the park sits a huge pirate ship for kids to explore, surrounded by a beach, teepees, and numerous play structures. This playground was inspired by the stories of Peter Pan and thus is geared towards kids exploring and following their imagination.
The park features slides, swings, a water play area, and a specially designed area for children with disabilities. It is important to note that children will not be allowed in without an adult and there are plenty of places in the shade for parents to watch their little ones. The playground is very busy during the weekend so you may have to wait in a line to get in. That said, this playground is worth the wait!
Yerba Buena Gardens Rooftop Playground -San Francisco, California
This innovative urban playground is located on the rooftop of Yerba Buena Gardens in downtown San Francisco. The playground is conveniently located just steps away from the Children's Creativity Museum and the King Carousel and offers endless amounts of fun. Whether your little ones are sliding down the 25-foot long tube slide or building something great in the sand circle, we promise they won't be bored.
Other notable attractions at this playground include the play stream, fountains of water, child-size hedge labyrinth, and the popular jungle gym. Watch them as they pound on the xylophone or participate in the story hour that happens often. With a nearby outdoor amphitheater hosting family performances, there is no better way to spend an afternoon with the kids.