outdoor playing equipments supplier
Categories:Outdoor playground
Play Events
Kids playground equipment, outdoor play equipment. Factory Price Children Outdoor Playground One Stop Solution
Desription
Kids playground equipment on 50% off, 100% custom made from Dream garden playground!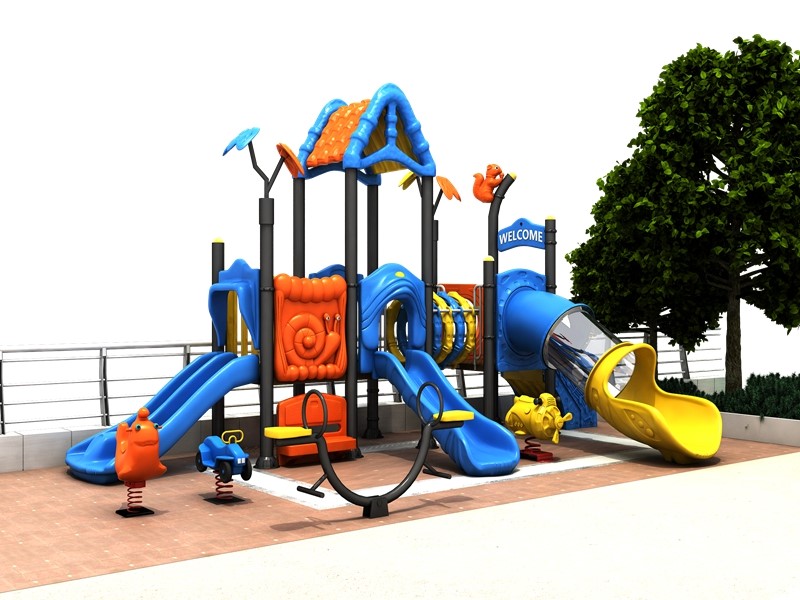 Why You Should Have Outdoor Playground?
It is a good choice to take the children to the outdoor playground. You can set a playground in your backyard. Why you should have it for your kids? It is safe, fun and is cheaper than you take child to some theme playground which need buy ticket. You can enjoy nice day with your kids.
The outdoor playground may not far from your home, so if you do not have enough time to take care of your kids, let them play in the outdoor playground, it is very safe. We know safe is most important thing in our life. If you want to play with your kids, don't worry, it is strong enough that you can join it. Getting out of house for some fresh air. We have too much time on phone or on TV; kids always stay in room that is not good for children. They can play with their friends together, and you can join it together. So outdoor playground is not only kid active places, but also is you and your family memory. As a parent, you are saving lots of hassle. You don't have to pack snacks, prepare kids for the picnic, look after them in the park and worry for their safety. Because the children will play it by themselves,and you do not need to ask them to get exercise. If you buy it, you can rebuild it with your kids, you will found is so funny to build playground, there is not only exercise the body, but also to stimulate active children's character, also to cultivate children's communication.
There are many different activities that you can include on your playground. Slides, swings, walking bridges, climbing board are all popular choices. If you're at a loss on what activities your playground should include, try taking your child to the park and see what he has the most fun with. So out playground is that you can choose models, based on the needs and fun of your family and children age. You can get your own customized playground equipment right there inside your home!
When you build playground, choose play equipment is important, you need choose soft simple one for your backyard, and choose good quality, usually it can use many years, you can build it with your family. For example, you can choose build a swing in your backyard, make sure have several seats that your kids can play with their friends and family together, also can cultivate their communication. You can safely have all your kids using it. Sam time they have their own pleasure.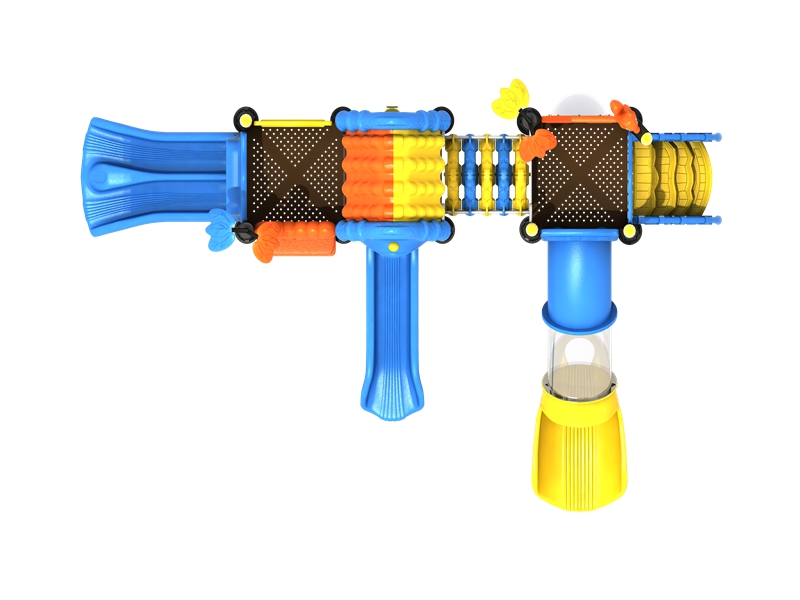 What we do?
To allow children to DEVELOP, we design our playground equipment to improve physical, cognitive, creative, social and emotional skills which build vital life skills and friendships
PLAYGROUND DESIGN PLAN
The construction of outdoor children's parks is different from the design of indoor parks. There are apparent differences between the two. In the planning of outdoor gardens, the natural landscape environment of the site selection area should be taken into account, including landscape conditions, topography and other factors. When landscape design is compatible with amusement, the designers summarized the following five design principles.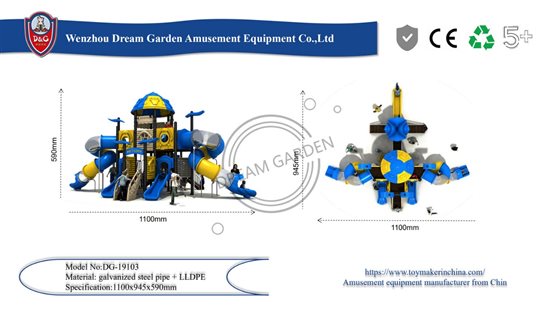 01
Designed Security
Because children are not mature enough in their physical and psychological development, they are incredibly vulnerable to the surrounding environment. Therefore, in the design of children's playground, safety must be put first. The location of the children's playground should be as far away as possible from the roadway and the surrounding public places where the surrounding environment is relatively disordered, and the children's playground should not lose contact with the surrounding environment and become a blind spot to prevent vehicles and crimes from threatening children. Besides, we must also pay attention to the safety of activity equipment and the safety of the detailed design of the site. There should be no dangerous protrusions (such as nails and bolts, etc.), squeezing points, sharp edges, sharp corners, and children that may be stuck—the opening of the head and fingers to avoid accidental injuries when children are moving.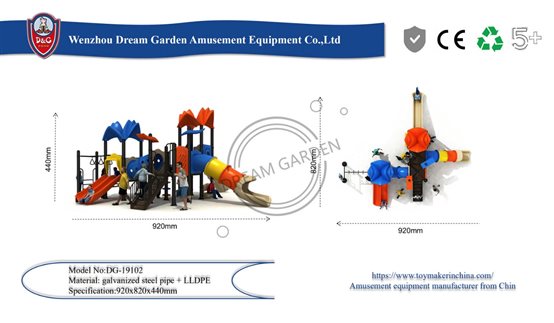 02
Universal design
Designers should follow the needs of the diversity of children's activities, taking into account the characteristics of children's curiosity, strong curiosity, energetic, and eagerness to explore the surrounding world. The design should integrate fun, participation, diversity and knowledge into one for children. Create a relaxing, natural and fully functional playground.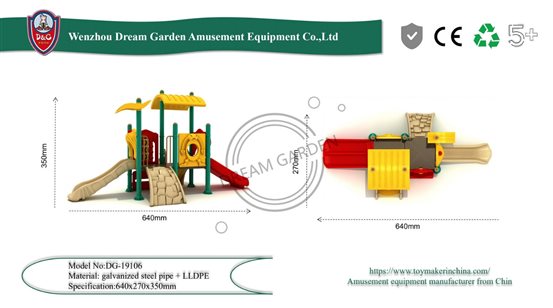 03
Combine natural design
The previous article mentioned about the gifts of nature. We should make use of them in time. In the design of a children's playground, it is a very innovative way to rely on nature and integrate nature. Make full use of the site's resources for design, such as pool, Hillsides, groves and other landscapes, adopt measures to local conditions, take local materials, and strategy should respect nature as much as possible, and not excessively pursue artificial traces.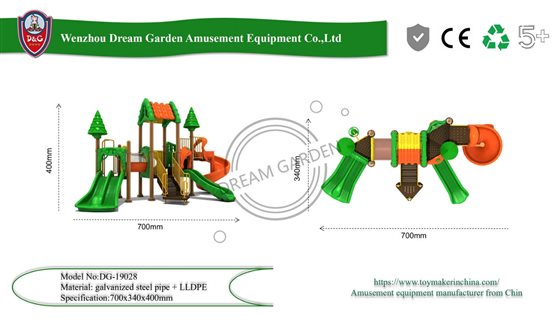 04
scale design
The senses of sight, hearing, smell and taste in landscape design constitute the scale of the plan. The method of children's playground must pay attention to the height and range of children's sight-line so that they can easily see the system, and only then can it arouse interest in the venue and equipment. Simply put, everything is designed to be simple and not too complicated to make people feel distant.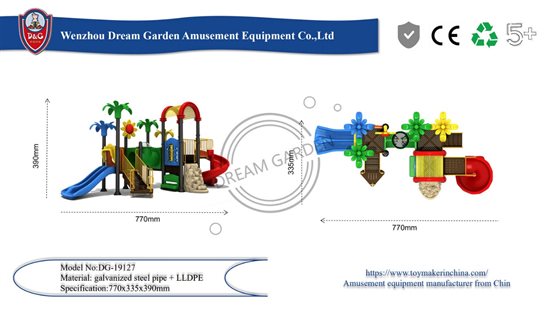 05
Designed Security
One of the characteristics of children's groups is that they are continually developing and changing. Developmental behaviours include cognitive development, language development, emotional development, interest development, social development, moral development, personality development, etc. The diversity of children's behavioural development makes the mechanism of children's growth environment Complex, diverse and changeable. From passive to active, from imitation to creation, they all reflect the actual promotion significance of the venue to children.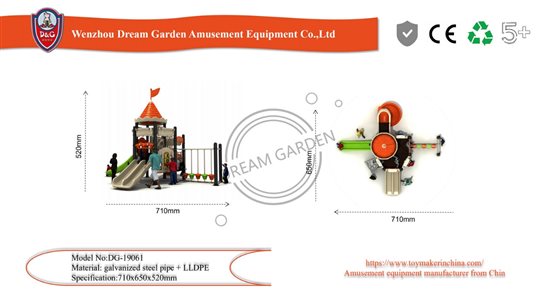 Material
component

Roofs, slides, plastic panels, stairs, decks, tubes and posts, climbing

Material

A. Plastic parts: Imported LLDPE
B. Post: National standard galvanized steel pipe
C. Metals: Galvanized
D. Deck, stair, bridge: Steel with plastic covered
E. Fasteners: 304 stainless
(Different material is available at your demand. )

Advantage

A. Anti-UV

B. Anti-static

C. Security
D. Environmental protection
E. Color is not easy to fade

Age Range

3--12 age

Capacity

5-10 KIDS

Apply to

Amusement park , kindergarten, preschool

Packing

Standard export packing

Plastic parts: Bubble bag and pp film;

Iron parts: Cotton and pp film

Delivery Volume: 7 CBM

Warranty Period

3 years for plastic parts, 5 years for metal parts and components

Remark

1.Please check the screws and other catchers regularly to assure the firm structure.

2.Please make sure that all the kids play with adult supervision.

3.Blunt objects and acid corrosive liquor are forbidden.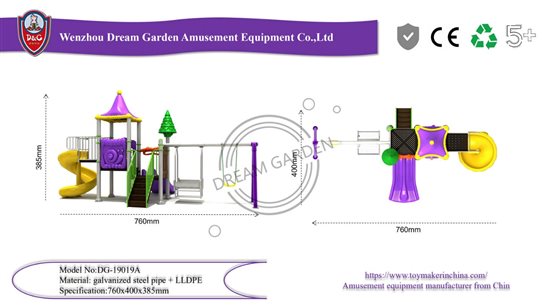 Installation technical support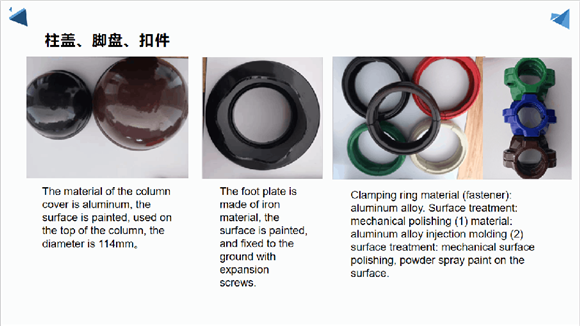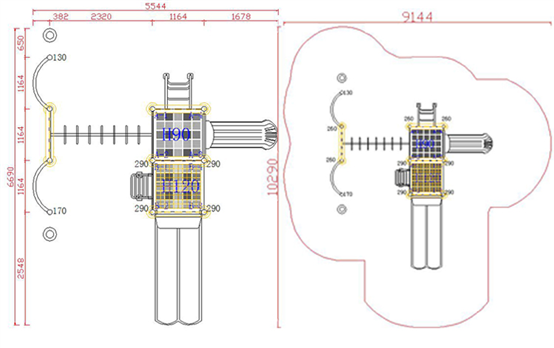 Dream garden designs inclusive play environments that go beyond accessibility. Backed by independent research and based on guidelines developed by leaders in the field of inclusive design, our play and recreation spaces address the needs of the whole child, and of every child. They also encourage children, adults and families of all abilities to experience the benefits of play together.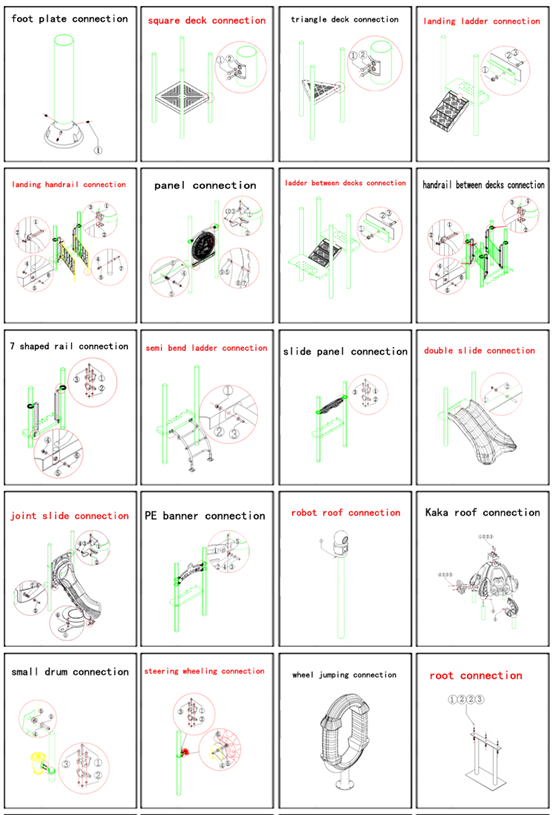 Logistics Services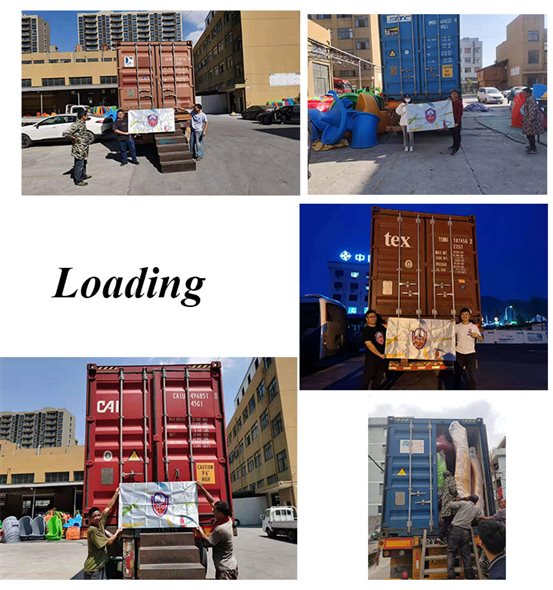 Our vision is to create a safe and fun children's playground for every child, to create a fun-filled childhood for every child, and to let every child have more company and less loneliness