The trampoline theme park is an experiential indoor sports park based on a trampoline and combining various entertainment
And sports activities. The venue is equipped with free trampoline area, dodge ball area, slam dunk area, professional trampoline area, etc.
People of all ages provide a colorful trampoline experience. At the same time, it also provides
Hosting birthday-themed events offers a new alternative.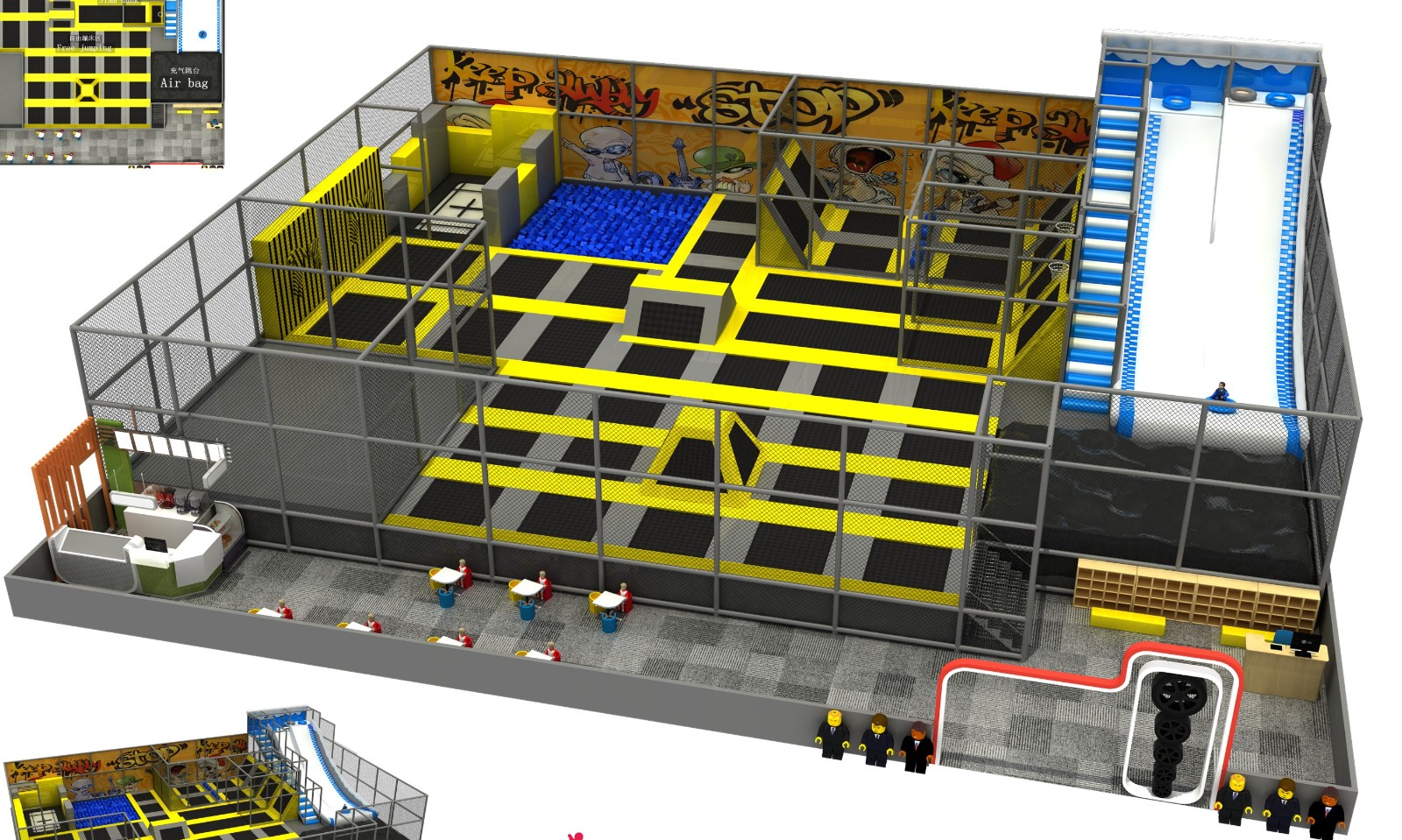 1.Professional trampoline area: The project includes the Olympic software wall, which is more flexible. Beginners of trampoline should not use it to avoid injury.
2. Warrior Development Zone: A warrior who tests his strength and physical strength, and a game for those who are capable.
3. Dodgeball zone: Fancy dodgeball, accurate hits and swift dodge are the key to the game.
4. Paoyan climbing area: a sponge block was added under the climbing wall to protect it. Without any external force, it leaps to the top, the test of courage and endurance.
5. Slam Dunk: It's time for SOLo to decide who is the true dunk king.
6. maze trampoline: It can promote children's spatial reasoning ability and exercise their hand-eye coordination.
7. Free trampoline area: This area is mainly for beginners and children.The trampoline area is moderately elastic and is guided by professional coaches.
Master the essentials of trampoline.
8. Rock climbing area: Rock climbing can exercise people's courage, increase foot strength and sense of coordination, and enhance physical strength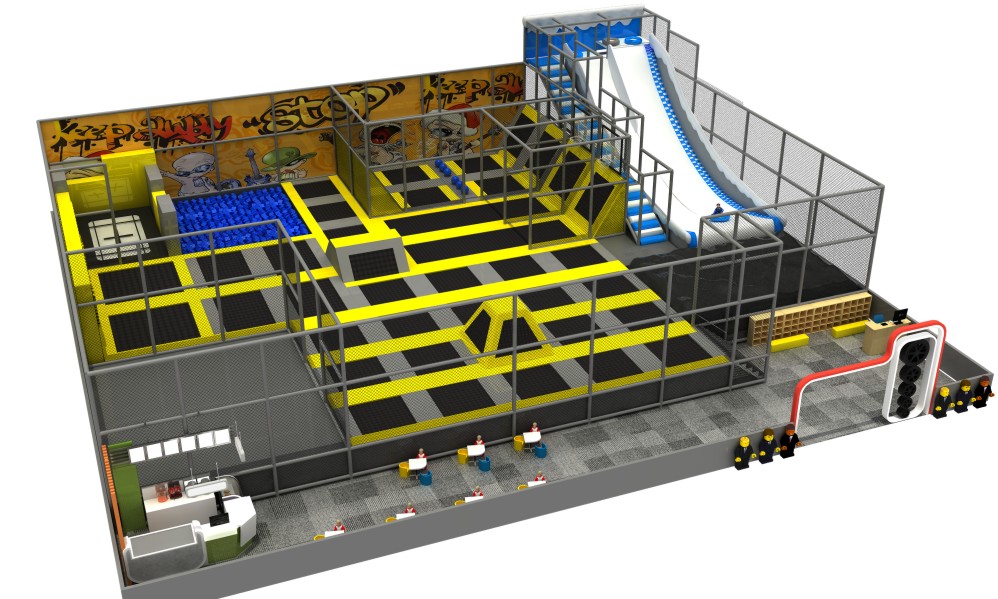 ( Free jumping trampoline project)
Free jumping area: This area mainly for beginner and children, with moderate elasticity of the
area, through simply learning to master the skill. The professional coaches to guide player.
Moreover, in the free trampoline area, you can challenge all kinds of funny bounce movements.
It is also suitable for casual play in a certain area in the three or five groups. At the same time, there
are soft walls in the project, you can try different ways of playing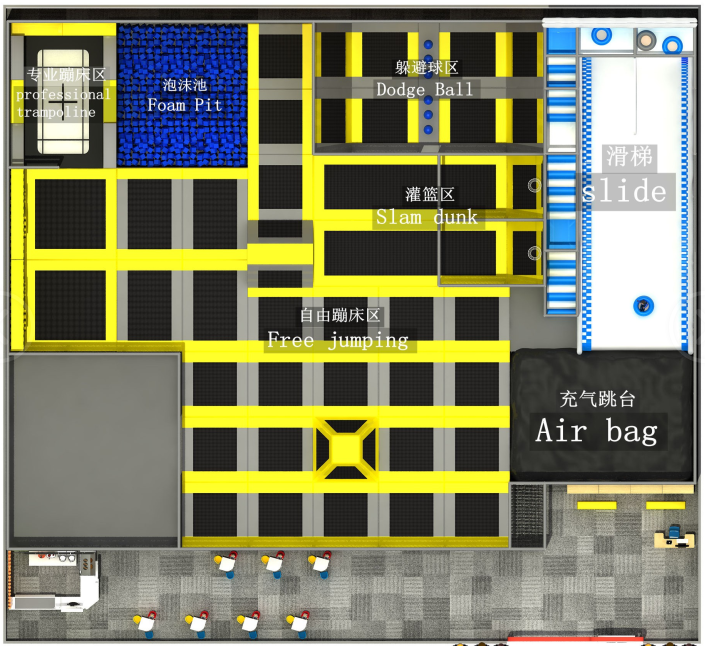 (professional line area)
Professional trampoline area, also known as Olympic trampoline, gymnastic trampoline, national trampoline for gymnasts. The trampoline of professional trampoline is more flexible,
and the height of air bounce Higher, suitable for longer and more difficult movements, can bring more exciting and unique trampoline experience to customers, making customers experience ordinary
The upgraded version of the trampoline experience after the trampoline has higher requirements on the venue height
(dodgee ball area)
The dodge ball area is an entertainment area. It combines the foreign dodge ball movement with the
le. It is a form of trampoline exercise that combines fun, cooperation and competition. The
r will complete the dodgeball movement on the trampoline, and the undulating trampoline will
bring more fun to the customer while increasing the difficulty of avoiding
(slam dunk area)
The player holds The basketball in hand, and makes shots and even dunks on The trampoline. Do
you want to experience the NBa star's Slam Dunk on the court? Trampoline Slam Dunk area, you feel
much more than that. Throw the ball into the basket using trampoline bounce basket, easily transform
into the air dunk master, experience the freedom of flying body jump with joy, make the basketball more
simple and more interesting
(Simulated ski slide)
let the player can simulate the stimulation of sking feeling, distinguish from other
general slide. The possibility of a single game can make kids have more fun
( Air bag)
Our air bag are both beautiful and soft, and the airbags can serve as a landing area for your jump
replacing traditional foam blocks